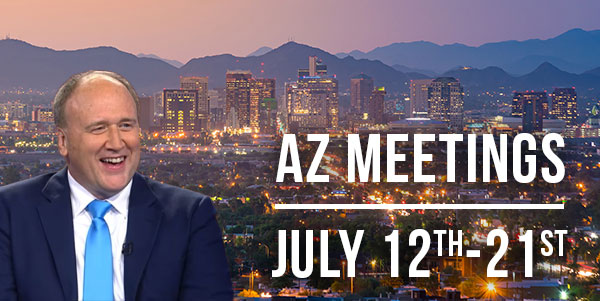 Join Kevin and Kathi for powerful, Holy Spirit led meetings in the Phoenix metropolitan area.
Schedule
FRI & SAT, JULY 12 – 13
Warrior Notes School of Supernatural Finances
FRI: 7PM – 9PM
SAT: 9AM – 11AM, 1PM – 3PM
Faith Family Church – Andy White – Pastor
11530 E Queen Creek Road, Chandler, AZ 85286
www.faithfc.org
Registration required
Register Now

SUN, JULY 14 at 10AM
Prepare the Way International Church
Rob Winters – Pastor
18777 N 32nd Street, STE 90, Phoenix, AZ 85050
preparethewayint.com
SUN, JULY 14 at 6:30PM
Lite the Fire Training Center – Jack Welch – Pastor
13415 W Westgate Drive, #103, Surprise, AZ 85378
WED, JULY 17 at 7PM
Covenant Life Christian Center
David Crammer – Pastor
2350 E Germann Rd, STE 22-23, Chandler, AZ 85286
www.covenantlifecc.org
THU, JULY 18 at 7PM
Prayer Pavilion – Saeed Hosseini – FGBMFI
13613 N Cave Creek Road, Phoenix, AZ 85022
www.prayerpavilion.org
FRI, JULY 19 at 10AM
CFTN – Sister Ruth Carneal – Teacher
6225 N Central Ave, Phoenix, AZ 85012
cftn.com
SAT, JULY 20 at 8AM
FGBMFI Meeting – Denny's Restaurant
825 S 48th Street, Tempe, AZ 85281
SUN, JULY 21 (3 services: 9AM, 11AM, 6PM)
Skyway Church – Greg Brown – Pastor
14900 W Van Buren Street, Goodyear, AZ 85338
skywaychurch.com
Meetings organized by Full Gospel Business Men's Fellowship International – Greater Phoenix Executive Chapter. This chapter welcomes men and women, young and old, business people and non-business people.