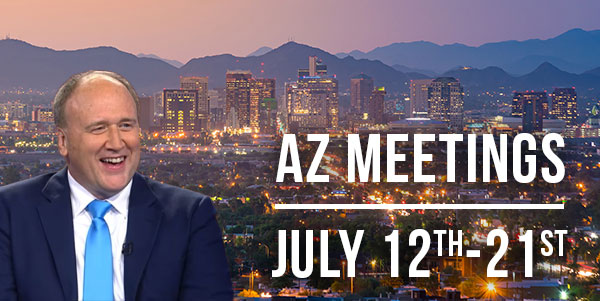 Join Kevin and Kathi for powerful, Holy Spirit led meetings in the Phoenix metropolitan area.
The schedule is subject to change. Please check back for the most updated information.
Schedule
WED, JULY 17 at 7PM
Covenant Life Christian Center
David Crammer – Pastor
2350 E Germann Rd, STE 22-23, Chandler, AZ 85286
www.covenantlifecc.org
THU, JULY 18 at 6:30PM
Prayer Pavilion – Saeed Hosseini – FGBMFI
13613 N Cave Creek Road, Phoenix, AZ 85022
www.prayerpavilion.org
FRI, JULY 19 at 10AM
CFTN – Sister Ruth Carneal – Teacher
6225 N Central Ave, Phoenix, AZ 85012
cftn.com
SAT, JULY 20 at 8AM
FGBMFI Meeting – Hilton Phoenix Airport
2435 S 47th St, Phoenix, AZ 85034
fullgospelphoenix.com
SUN, JULY 21 (3 services: 9AM, 11AM, 6PM)
Skyway Church – Greg Brown – Pastor
14900 W Van Buren Street, Goodyear, AZ 85338
skywaychurch.com
Meetings organized by Full Gospel Business Men's Fellowship International – Greater Phoenix Executive Chapter. This chapter welcomes men and women, young and old, business people and non-business people.